Looking for solutions to set up VPN for PC, Mac or mobile devices?
VPN, Virtual Private Network, has become more and more popular as more and more workers work from home or travel on business. A VPN allows people connect their devices to their office network even if they are far away from their offices. Furthermore, when you are traveling, you also can connect your devices like laptop, tablet even phone to your own home Network.
YooCare 4-Steps PC/Mac/Mobile Device VPN Setup Service

1

. Promptly answer your questions about VPN via online chat or TeamViewer.

2

. Our expert will remotely connect to your PC/Mac/Mobile device over Internet via TeamViewer.

3

. Set up the VPN with your demands completely

4

. Teach you how to use VPN properly on a daily basis.
ALL BACKED BY

YOOCARE 360° SUPPORT

YooCare 360° has made YooCare the world's leading specialist in the online tech support industry.

HOW YOOCARE WORKS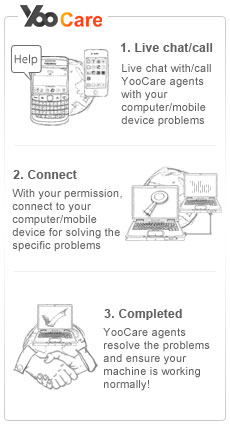 WE'RE OPEN 24 HOURS A DAY
WHAT OUR USERS ARE SAYING:
"Worth every cent! I am only 16 and when I found my laptop had been locked by a virus which no scanners could find, I truly thought I would be paying my final respects to this machine. However Leo has spent HOURS with me trying again and again to resolve my issue, which he has done and more besides! Great company! Great people! Great service! I will be sure to recommend you to all of my contacts :)! Many thanks, John." - John Baggs
"Thank you very much for removing this FBI virus thing from my beloved Samsung Galaxy phone. I have no idea how my phone got infected. However, your guys are not only removing it completely but also teach me how to avoid it in the first place! Your help is professional and highly recommended." Harold Johnson - Norwalk, US
Read more customers' testimonials
YooCare Spotlight