Fix Windows PC Errors Service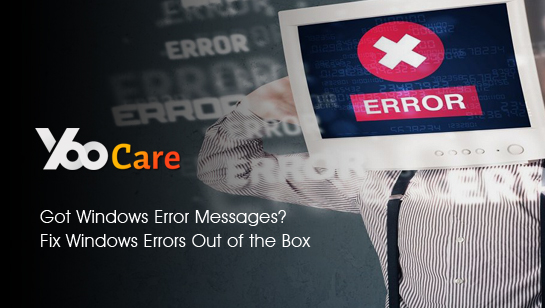 Looking for solutions to fix Windows PC errors?
Many windows users usually find that their computers suddenly freeze or have some errors like "Cannot find import; DLL may be missing, corrupt, or wrong version File "gdiplus.dll", error 126". If your computer gets errors, the related services and features will be disabled, then the computer users will be unable to use the computer smoothly. Computer with some system errors will become sluggish. It may take a long time to start up or it may load the internet slowly. In some case, when you run a program like Facebook, it may automatically exit then you can't open it immediately. Does your computer perform weirdly? Does your computer gets stuck and freezes when you are visiting some websites or running some software? Do you get an error when you start up your computer or the error just pops up suddenly? If you got these problems, don't worry, your problems can be fixed by Yoocare online expert completely. Yoocare experienced online experts will help you fix the problem effectively and quickly then check your computer to see if there are other problems in your computer.
Most of windows computer system errors are relate to the Windows registry and the damage it may have existed. To fix the computer crash, freeze problems or other occurred errors, you are supposed to have enough computer knowledge especially registry related. The following are some useful tips for fixing windows computer errors.
YooCare 6-Steps Fix Windows PC Errors Service

1

. Promptly answer your questions about your Windows PC symptoms via online chat or TeamViewer.

2

. Our expert will remotely connect to your Windows PC over Internet via TeamViewer.

3

. Systematically resolved annoying PC problems.

4

. Effectively fix the detected PC issues:


If the errors relate to the Windows registry, editing the registry manually would really help to fix the problem. Once you edit a right registry, the problems will disappear and be fixed quickly
If it is the corrupt or invalid keys cause the problems, removing those corrupt or invalid keys would help to fix the problems. But if you falsely remove the important keys as well, your computer may get other serious problems.

5

. Provide high quality after-sales service.

6

. Teach you how to secure your PC performance on a daily basis.
Thanks for using YooCare Services!
Here're some of the support team members who are passionate about their works and support our customers 24/7.

As Seen On