Virus, Spyware & Malware Removal Service for PC/Mac/Mobile Devices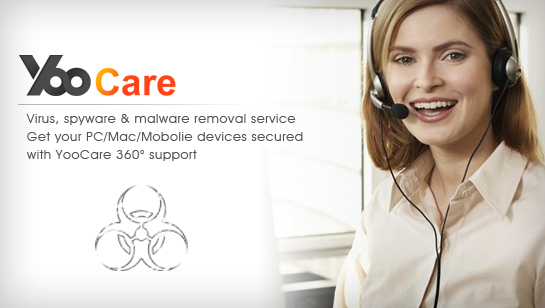 Viruses and other malware are becoming prevalent nowadays and are highly engineered to prevent major anti-virus software to detect and remove them in time. Virus, Spyware & Malware removal is a complex task, and any mistakes like editing Windows Registry may damage your system and pose a greater risk to lose your data. Most of YooCare experts have more than 8 years' experience in the field of computer/Mac/mobile device security. We specialize in virus, spyware and other malware removal. We can help you clean out all threats completely and safely via TeamViewer. It is a faster and safer way to get your issues fixed. Through your high-speed internet connection, YooCare experts can help you immediately and fix the issues thoroughly.
Is your computer/Mac/mobile device attacked by a virus or spyware? Cannot control your computer/Mac/mobile device by yourself?
Google search be redirected to a strange website other than those you type into the address bar?
Your homepage keeps changing and the search results are full of ads or objectionable contents?
Malicious advertisements pop up that didn't meet your needs? Lots of unexpected toolbars and ActiveX Add-ons are added on your Internet browser without consents?
You keep prompting warning and error messages, claiming that your system is in high risk and have to buy the license of the so-called scamware (fake AVs) to remove the "detected infections"?
You watched your computer/Mac/mobile device being destroyed by the virus or fake antispyware but could do nothing to save your computer/Mac/mobile device?
We can help you remove all threats and also teach you prevent malware from infecting your system, accessing your personal information like credit card/PayPal info, e-mail ID and password, and other private information. YooCare's tech experts can help you in every way possible to safeguard your computer/Mac/mobile device.
Just give us the permission so that we can remotely access your computer/Mac/mobile device via Internet and our YooCare certified technicians can perform a quick diagnosis to detect and remove spyware hidden in your system files and registry entries permanently. At the same time, you can watch all the steps during the help session via the encrypted remote window.
YooCare 10-Steps Professional Virus, Spyware/Malware Removal Service

1

. Promptly answer your questions about your computer/Mac/mobile device's unusual behaviors and infection symptoms via online chat or TeamViewer.

2

. Our expert will remote securely in your computer/Mac/mobile device over Internet via TeamViewer.

3

. Diagnostic and troubleshoot the causes of virus/spyware infections.

4

. Identify and completely remove any known viruses, spyware and other malware on your computer/Mac/mobile device.

5

. Manage and update Windows system to the latest version (install patches if available).

6

. Install trusted security software if not available and update to the latest definitions.

7

. Perform a complete scan and remove all the associated files of the virus detected.

8

. Offer proactive recommendations to protect your system against future infections.

9

. Check up or uninstall clutter programs if necessary, fix registry, and clean up junks.

10

. Teach you how to protect your computer/Mac/mobile device in a safer and more efficient way on a daily use.
Thanks for using YooCare Services!
Here're some of the support team members who are passionate about their works and support our customers 24/7.

As Seen On