PC Gaming Optimization Service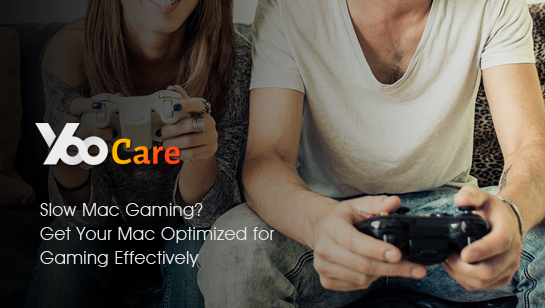 Looking for solutions to optimize the gaming performance for your Mac/MacOS?
For now, there are tons of games for Mac and many Mac users would like to play games on their MacBook. But when they play games on their MacBook, they may find that it is really slow and sluggish. That slow performance has very bad effect to their gaming and it is such annoying. To get a better performance and play games on MacBook frequently, you can optimize your computer aiming at speeding up gaming performance. After optimizing gaming, you will get a bigger chance to win in your favorite games and you won't get stuck when you play games on your MacBook. Would like to do a gaming optimization to speed up the gaming experience on MacBook but don't know how? No worries, Yoocare experienced online experts would be happy to help you optimize your MacBook gaming manually.
Having a good gaming experience will not only make you have a good mood all day but also may improve your gaming level. To make gaming on your MacBook not stuck, there are several helpful tips here for you.
Firstly, you should know any respects of your Mac/MacOS, processor, memory, available hard drive space. Only when you know all aspects of your MacBook can you have a better gaming experience. If you want to play games on your MacBook, you should choose a game according to your MacBook properties or improve your MacBook properties to meet the game's demand.
Secondly, to get a better gaming experience, you need to maintain your computer performance regularly. Before you play the game on your MacBook, you should check your available hard drive space first and to have more storage, you can close all the running programs except the important one.
Each game has its deferent demand about the computer property and other hardware. For example, a proper screen resolution can have a significant effect to the gaming experience. Texture and Shadow settings also can influence gaming experience. If you lower these two options, your games may run better. Want to get the right settings for games? You are supposed to contact an expert for help.
YooCare 10-Steps Mac/MacOS Gaming Optimization Service

1

. Promptly answer your questions about your Mac/MacOS's unusual behaviors for gaming via online chat or TeamViewer.

2

. Our expert will remotely connect to your Mac/MacOS over Internet via TeamViewer.

3

. Diagnose and troubleshoot the causes of annoying problems.

4

. Identify and completely consolidate those fragmented files, in an attempt to optimize your Mac/MacOS and speed up your system.

5

. Manage and update Mac/MacOS system to the latest version (install updates if available).

6

. Uninstall a program and get rid of all those applications you rarely use or update to the latest definitions.

7

. Improve your Mac/MacOS's performance and boost your gaming session.

8

. Offer proactive recommendations to fix known bugs on your Mac/MacOS for a fast running.

9

. Check up or uninstall clutter programs if necessary, fix drive errors, and clean up junks to improve your system's performance.

10

. Teach you how to protect your Mac/MacOS in more efficient way on a daily use for gaming.
Thanks for using YooCare Services!
Here're some of the support team members who are passionate about their works and support our customers 24/7.

As Seen On