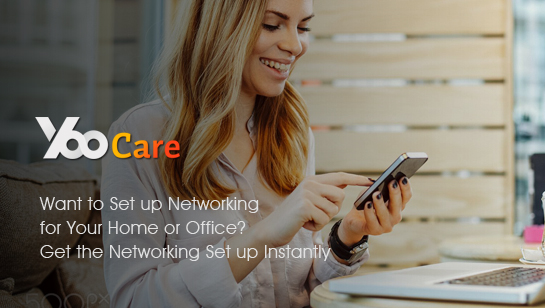 Looking for solutions to configure & set up networking for your home or office?
A network is defined as a group of two or more computer systems linked together. In computer networking, a network service is an application running at the network application layer and above, that provides data storage, manipulation, presentation, communication or other capability which is often implemented using a client-server or peer-to-peer architecture based on application layer network. Nowadays, you almost can do nothing with the networking. However, YooCare provide services available for you 24×7 online, you needn't worry. We are just a call away and you could connect with us anytime for tech support.
Did you receive a "Sorry - something did not go through! Please check your network connection and try again." error message? How soon can you get your networking back to normal?
YooCare 5-Steps Networking Service

1

. Promptly answer your questions about your networking needs for home/office via online chat or TeamViewer.

2

. Our expert will remotely connect to your device over Internet via TeamViewer.

3

. Diagnose and set up the Internet connection.

4

. Install the latest updates on your software for networking.

5

. Set up or repair your wireless network connection, configure a new device in the network and add/remove wireless network profiles.

6

. Test drive all the networking connection with you; and confirm the work based on your needs completely.

5

. Teach you how to manage your networking on a daily basis.